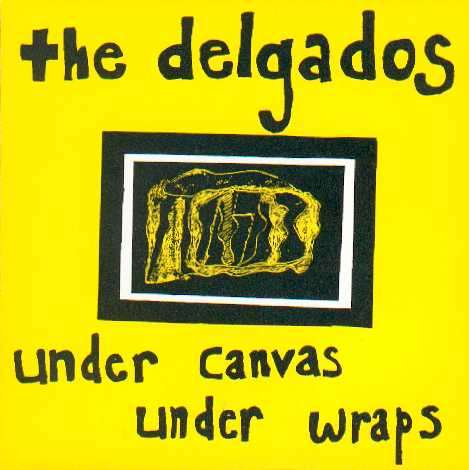 The Delgados - Under Canvas Under Wraps - Digital Single (1996)
Original UK Release Date: June 1996. Entire Single Download With Cover Art - 4 Tracks (320K bit rate; 28.2MB)
The first Delgados single to make any kind of impact on national radio, Under Canvas Under Wraps was to become Single Of The Week on Steve Lamacq & Jo Whiley's Evening Session on Radio 1 which in turn led to the band being offered a high profile support slot with Elastica. The origins of the track are relatively hazy except for the fact that we wanted the song to start at a really breakneck pace and then get progressively faster. Problem was that after we released it as a single, we went into the rehearsal room to practice it and discovered that we were shit at playing it - it lsurvived the early tours (out of necessity) and then got dumped from the sets, never to reappear again until towards the end of our career.
The song was backed by a song called Bearcub, which we felt was a real progression for the band - we were right too as it still stands up now as a really interesting song with what for us then was a rather peculiar arrangement. The other B-Side Een Telf (or Teen Elf if you're feeling slightly less obtuse) was another shouty number - the type of song we would write and record less and less as the band's career developed.
Crayon artwork by the talented Mr Woodward...
Pointless piece of trivia: The shouting at the start of the song was recorded by Stewart who basically stood in the middle of the live room and screamed gibberish for 10 seconds. Nothing new there then.....