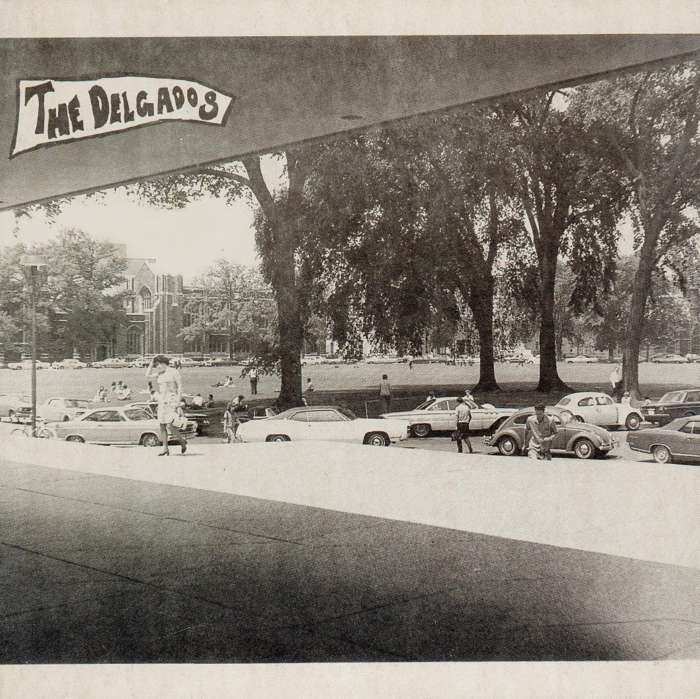 The Delgados - Monica Webster/Brand New Car - Digital Single (1995)
Original UK Release Date: 6th February, 1995. Entire Single Download - 2 Tracks (256K bit rate; 10.6MB)
Original UK Release Date: 6th February, 1995
Stewart: I remember recording this single like it was yesterday - probably because it was our first single and everything. Monica Webster was a friend of Alun's who he had met whilst on an archaelogical dig at Head Smashed In Buffalo Jump near Calgary. Monica had a little brother called Cameron and a dog named Cakehole - all present and duly celebrated on the track.
Emma's track was Brand New Car and I think it was about exactly that (Emma's obsession with cars continues to this day). The shouted chorus of "The Crafters!" was a rather infantile dig at selected members of the band Alun, Paul and I had been summarily ejected from the year previously. The photograph on the cover was taken by Paul's dad Jim and it was of Toronto University in 1969. I remember we all felt terribly smug with ourselves because there was no writing on the vinyl itself: just a photo of Monica on one side and a snap of Paul as a toddler behind the wheel of some car or other.
Accepting delivery of these singles was an event in itself: holding a record of your own band was a major thrill for us and served as some form of reassurance for my parents, both of whom remained unconvinced that my new career path as a record company mogul possessed the same degree of job security as the accountancy gig I had decided to pack in...