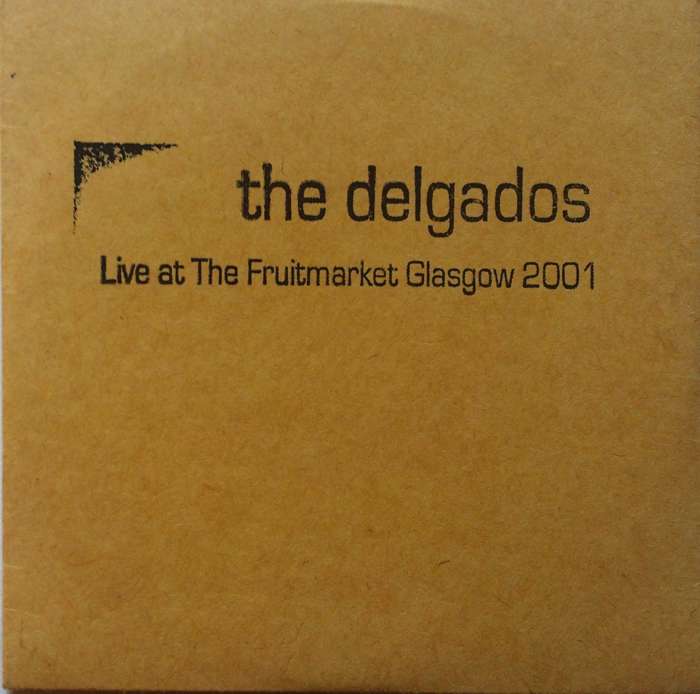 The Delgados - Live at The Fruitmarket Glasgow 2001 - Digital Album (2001)
Entire Album Download With Cover Art - 14 Tracks (320K bit rate; 186MB)
Everything Goes Around The Water
Pull The Wires From The Wall
The Weaker Argument Defeats The Stronger
The Past That Suits You Best
The only sanctioned/approved/we did it ourselves bootleg of a Delgados live show and (placing our trumpet to our lips once again and blowing our tits off) it's really pretty impressive...
Going back to the beginning of 2001, The Delgados were drawing their 'Great Eastern' dates to a close and decided to bow out in Glasgow with an appearance at the city's Celtic Connections festival. We've always been quite vocal about our love of folk music and its influence ran deep through a large section of our material but this gig was about as far removed from an intimate folk confessional as you could get. We had already brought out the big guns in terms of on stage lineups at the Royal Festival Hall when we appeared at John Peel's Meltdown Festival with 18 (or was it 19?) people on stage, so it seemed only fair that our homecrowd should be treated to a similar exercise in bombast.
And so it was that on Saturday, January 20th 2001, we took to the stage with a full brace of strings, piano, flute, brass and percussion (17 all told apparently) and by all accounts played one of the gigs of our lives. The concert was recorded and mixed by our ever faithful and always brilliant sound guy John Delf (who now performs sound duties for none other than Lily Allen) and the set list includes every track from The Great Eastern (apart from Accused Of Stealing which is a bit weird because we always played that one - we must have fucked that one up) and a smattering from Peloton. The atmosphere that night was fantastic - lots of shouting in between songs although the only track to really pick that up is American Trilogy where you can just catch Alun saying "Football is pish, all footballers are dicks" - I'm not sure but I think he might have been quoting Machiavelli...
Pointless Piece Of Trivia: Aidan and Malcolm from Arab Strap supported The Delgados that night, playing a low-key acoustic set as a duo. One of the main reasons we remember this is because Delgados' bassist Stewart Henderson's dad got into a fight with some guy in the toilet after the poor sod mentioned to his friend that he was "only there to see Arab Strap because The Delgados were shite." Poor sod? Serves the fucker right...