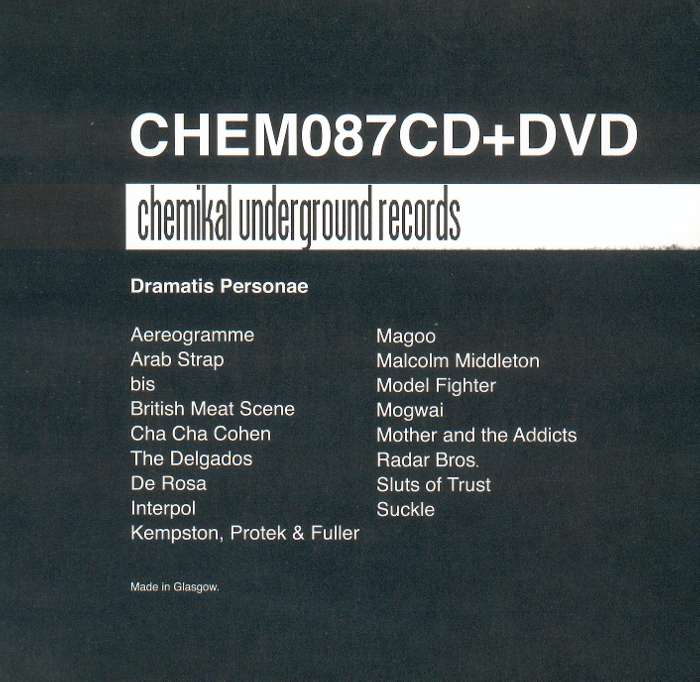 Various - CHEM087CD+DVD - CD Album & DVD (2006)
Original UK Release Date: 7th August 2006
Chemikal Underground's mammoth retrospective of approximately 11 years in the music business. Featuring 17 audio tracks and 28 videos from the label's story so far, the DVD features audio commentaries by Arab Strap, The Delgados, Mother And The Addicts and Sluts Of Trust as well as rare videos from Aereogramme, Mogwai, Radar Bros. bis and Cha Cha Cohen.
Press Release:
It seems that no one needs much of an excuse nowadays to reach for the party poppers and declare some dubious anniversary a cause for celebration. Step forward then, CHEM087CD + DVD, Chemikal Underground's charmingly entitled tribute to surviving 11 years, 5 months and a handful of days in an industry full of cloth-eared socialites and self-serving egotists. That's not to say everyone's like that: we're a fantastic bunch of guys, as are all the artists featured on this double-dunter of a CD and DVD. We've also worked with a magnificent array of people into the bargain and we offer them all our heartfelt thanks.
This package is a testament to the artists we've been fortunate enough to have collaborated with over the years and it's the sheer diversity of the music on offer that should force people to re-evaluate their preconceptions of Chemikal Underground and the strength of its catalogue. One of the most successful record labels Scotland has ever produced, it's arrival and impact on Glasgow's music scene cannot be overstated: launching several international careers including those of Mogwai, Interpol, Arab Strap and The Delgados; propelling bis onto Top Of The Pops with their second single; a Mercury Prize Nomination for The Delgados; Mogwai headling Glastonbury; critically acclaimed albums by Malcolm Middleton, Aereogramme, the Radar Bros.
This is an album full of surprises and a bold affirmation of an independent spirit that has endured against all the odds for 11 years, 5 months and a handful of days.