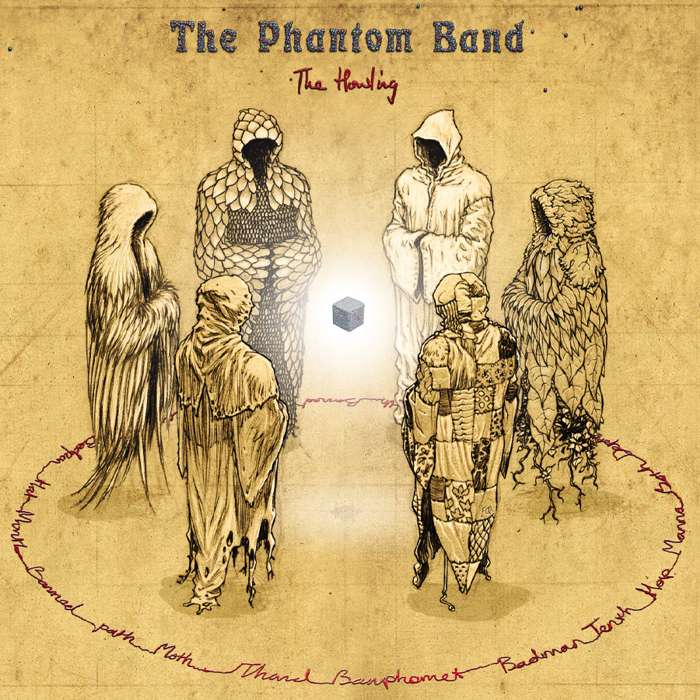 The Phantom Band - The Howling - 7" Vinyl (2009)
Original UK Release Date: 1st June 2009
This first single proper from The Phantom Band's critically adored debut - this 7" vinyl features the abbreviated radio edit of The Howling backed by a track named 'The Tall One'. 'The Tall One' was recorded as part of the Checkmate Savage sessions and is largely instrumental if you're prepared to discount some suitably incorporeal chanting. When asked to provide some background to the song The Phantom Band delivered the following...
He looked around him. The shell-shocked crowd were slowly coming to terms with what they had just witnessed. The show had been a good one - well, they'd played better before, but even at 50%, they were better than most of the pretenders out there. He looked to the centre of the stage where his partner and trusted friend stood: The Tall One had his arms raised in a Christ-like pose, soaking up the adulation of the audience, eyes closed, lost in a state of euphoria, as if at any moment he would fall to his knees and explode into stars. How he loved that tall freak.
He unplugged his guitar, lovingly caressing the contours of its aspect. He and his tool had come a long way. He thought back to the time when The Phantom Band had tried to steal it and how he had to kick that Sharkpiss loser's ass to get it back. He wouldn't let that happen again. He took a moment to remember that night in the Art School all those years ago: The Phantom Band had an interesting sound alright - hell, they'd even come close to stealing the show - but that was never going to happen on his watch. He had already rescued the night with a fucking wizard guitar shred before The Tall One had taken it home with a ferocious, godlike scream as their finale drew to a close.
He looked over at his giant friend again. How far they had come. And who knew how far they had left to go? One thing he knew for sure - it was going to be a hell of a ride getting there. With the dazed crowd starting to disperse, he knew it was time to make their exit. He slung his axe across his back and started climbing the rope ladder to take his place in the saddle on The Tall One's head. Out into the cold Glasgow night they went, those two old friends, and with a few gargantuan steps they had reached the English border. With the Tall One in full stride they would reach China in a couple of hours for the concert on top of the wall. They would show those poor little bastards what it really meant to be free; they would show them that the world was theirs and that all their dreams were waiting for them, just out of reach for now, but soon to be passed down to them. Because they were coming to play. At the moment their sky was dark, but it was about to get turned the fuck on.