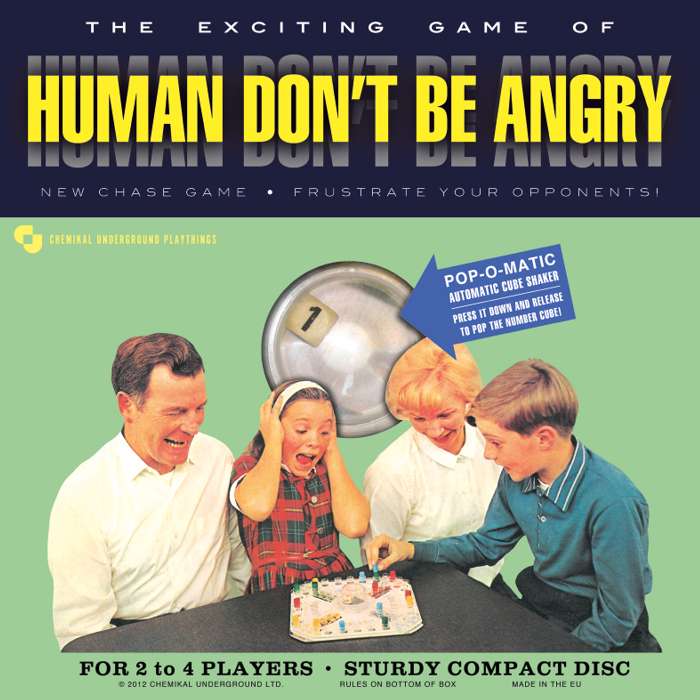 Human Don't Be Angry - Human Don't Be Angry - Vinyl Album (2012)
Original UK Release Date: 23rd April 2012. Includes CD disc of album.
Named in honour of the German version of board game Frustration ('Mensch ärgere Dich nicht'), 'Human Don't Be Angry' was recorded at Chem19 Studios during October 2011 with Paul (Savage) and an old cohort from his dancing days: Aidan Moffat on live drum.
'HDBA is a facade, a front so I can have fun again musically,' says Middleton, who describes himself as having felt bored and restricted by what he jokingly refers to as the 'heart-on-sleeve complaining' of his solo work. 'I thought I'd go back to what I enjoy,' he says, 'which is playing guitar and writing melodies.'
The original idea to create an album of gentle guitar instrumentals and drum-free ambient atmospherics was soon put paid to when Middleton entered the studio with Savage, as drum tracks were added and lyrics emerged for some of the songs, albeit often as poetic repetitions of phrases rather than structured verse-chorus-verse affairs. The words fit with the laid-back air of the music and help showcase Middleton's skill as a guitarist, leaving the sense that he's made 'more of an album I'd want to listen to than the one I thought I wanted to make.'
If Malcolm wants to listen to the Human Don't Be Angry album then that's good enough for us and, with respect, it should be good enough for you too...