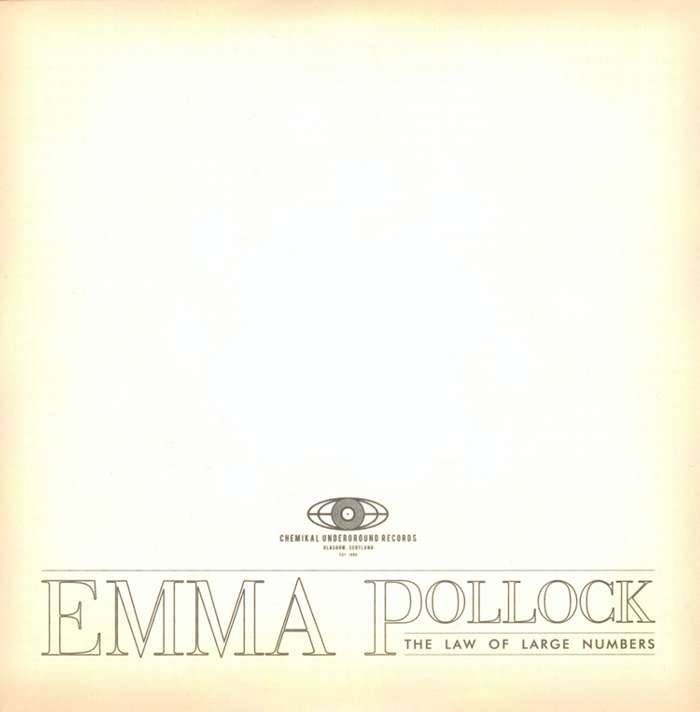 Emma Pollock - The Law Of Large Numbers - CD Album (2010)
Original UK Release Date: 1st March 2010
Returning to Chemikal Underground after a one album stint at 4AD, Emma promptly disappeared into Chem19 with Paul Savage on production duties and came out with 'The Law of Large Numbers'. An altogether darker and more complex beast than 2007's 'Watch the Fireworks', Emma's new album seems perfectly suited for the labyrinthine, gothic hallways of Chemikal Towers, not to mention the ears of our discerning fans - two of which belong to you.
Armed with an open remit and a preparedness to let this album dictate its own course, The Law of Large Numbers arrived with taut, sparse production, hints of Dixieland jazz, abrasive pop songs; programmed drums and improvised vocal loops - in short, and in the words of Emma herself, "The truest representation of me as an individual - whatever that means."
Emma (a Physics graduate in case you weren't aware) has always had a bit of a thing for numbers and this infatuation has found its way onto this album with a title referencing a mathematical theorem which deals with the repetition of experiments with equal probability outcomes. Intrigued? Didn't think so, but you can find out more about the actual Law Of Large Numbers by clicking here. The law itself is responsible for many a disillusioned gambler. Emma elaborates: "It's all about risk and expectation, and the human race's unwillingness to accept the random nature of events. There's a lot of beauty in mathematics and the natural world; it's all tied in with the wonder of things that are beyond our control."
The album certainly recalls the unpredictable gear changes commonly employed by her previous band: Hug The Harbour's propulsive rhythm section balanced by the acoustic simplicity of The Child In Me; the torpid languor of Chemistry Will Find Me with its Tom Waites percussion and guest vocals by Adem alongside the imaginatively revolving vocals of The Loop; Red Orange Green with its regimented urgency and jagged guitars contrasts brilliantly with the beautiful, undulating piano and close harmonies with Kim Edgar on House on the Hill. For an album to contain such an eclectic array of musical styles and still hang together successfully is a testament to the skill of Emma's songwriting and undoubted flair with melody.