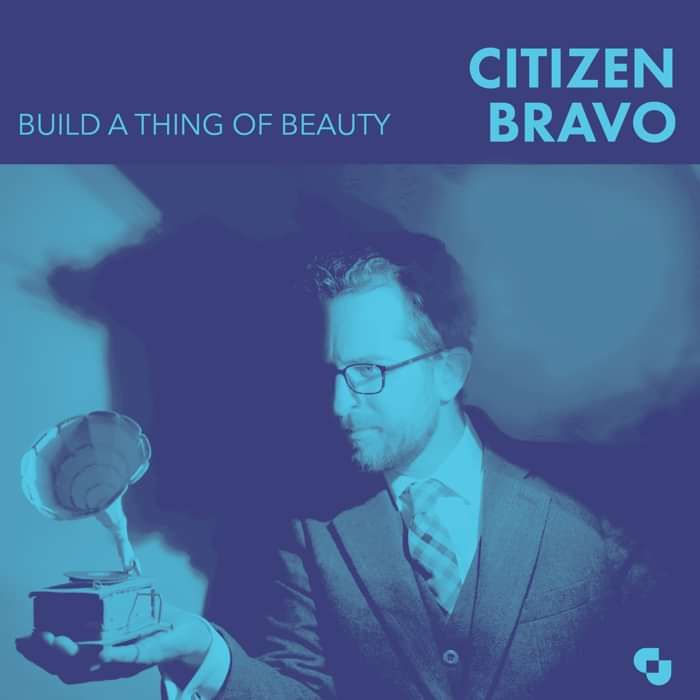 Citizen Bravo - Build A Thing Of Beauty - Digital Album (2019)
Entire Album Download With Cover Art & Fanzine - 11 Tracks (320K bit rate; 180MB)
Citizen Bravo Fanzine (Contents)
Citizen Bravo Fanzine (Cover)
Invincible Kids On Prom Night
I Will Love You When You're Dead
Stuck Inside Of Mobile Phone
RELEASE DATE 5th APRIL 2019
Now with the accompanying fanzine included: 'The Terrifying Miracle of Recorded Sound'
It gives Chemikal Underground Records great pleasure to introduce the unabashed geek pop of Citizen Bravo, AKA songwriter, multi-instrumentalist and music researcher Matt Brennan (Zoey Van Goey). His remarkable debut album Build A Thing Of Beauty is available exclusively on digital services, save for one, extraordinary and thoroughly unique physical manifestation – an interactive musical sculpture known as SCI★FI★HI★FI, to be premiered at a launch event at the University of Glasgow Concert Hall on 11 April 2019.
Citizen Bravo marks Brennan's first outing as a solo artist. Drawing on musical influences ranging from Jonathan Richman to Robert Wyatt, Brennan recorded the album with the help of friends including Andy Monaghan (Frightened Rabbit), Malcolm Benzie (Withered Hand), Raymond MacDonald (Glasgow Improvisers Orchestra), and Pete Harvey (Modern Studies). Brennan also found inspiration in scavenging and manipulating orphaned samples from antique recording formats and integrating them into his songs.
Built in collaboration with an electronics engineer (Peter Reid) and metal worker (Mark Reynolds), the SCI★FI★HI★FI is what its name suggests: a science-fiction inspired hi-fi system that can play the music of Citizen Bravo on seven of the most historically significant recording formats (Edison wax cylinder, 78 rpm disc, vinyl LP, cassette tape, compact disc, mp3 on hard drive, and streaming remotely from the cloud). It explores how playback technology changed the parameters of musical work at different moments in history: from two minutes of lo-fidelity mono sound on wax cylinder, to a streamed AI-composed remix that is unstoreable and infinite in length. To listen to the album Build A Thing Of Beauty via the SCI★FI★HI★FI is to make sense of recorded music not as a fixed, frozen object but as an historical event unfolding over time. How was recorded music valued before the advent of albums, and how might it be valued after albums are gone?
Completing this ambitious hybrid music and research experiment is a short documentary film The Cost Of Music, which will be screened as part of the sculpture launch event in Glasgow, ahead of further screenings at Berklee College of Music in Boston, Université du Québec in Montreal, the Australian National University in Canberra, and further tour dates to be announced. The short film The Cost Of Music (directed by Graeme O'Hara) documents Matt's journey making the album: disillusioned by prevailing attitudes about the disposability of new music and the decline of physical formats, Matt set out to record his own songs and release them in an unusual way: not so much a 'concept album' as a musical sculpture that explores the concept of albums as historical artefacts. In doing so, he discovers how the cost of listening to records has changed over the past century: while the economic cost of listening to one's choice of recorded music has never been lower, the environmental cost has never been higher.