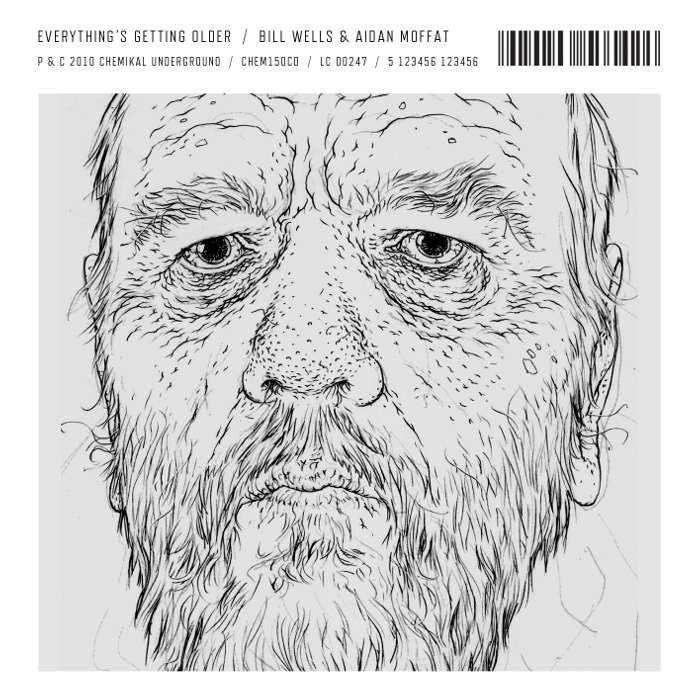 Bill Wells & Aidan Moffat - Everything's Getting Older - Singlefold Vinyl Reissue (2015)
Original UK Release Date: 9th May, 2011. Singlefold LP • 180gsm vinyl • Printed inner sleeve incl. lyrics • Includes download card for 320k
So here it is then, 'Everything's Getting Older': Aidan Moffat's first full length collaboration with Bill Wells and it is, in a nutshell, one of the best albums of his career. We've long been harping on about Aidan's skill as a lyricist but with this piece of work you get a real sense that he's really hit his stride: in the youth-obsessed bear pit that is the music industry nowadays, who better to ruminate on the ups and downs of approaching forty than Aidan who delivers a set of songs that are as funny, poignant, filthy and insightful as anything he's ever written.
Over and above Aidan's lyrics, it's the backdrop they're set against that makes this album so memorable: Bill Wells' subtly intricate brand of composing provides the perfect foil for Aidan's observational vignettes - the music for the album's understated centrepiece 'The Copper Top' is a profoundly moving piece of work. With the unsettling surrealism of 'Dinner Time' and the Philip Glass-esque urgency of 'Cages', 'Everything's Getting Older' provides a compellingly melancholy/funny/tender/faithful snapshot of what it feels like marching towards middle-age, casting backwards glances at your youth as you go...
A benchmark album for Aidan in our opinion and one which places him alongside such luminaries as Nick Cave, Tom Waits and Elvis Costello.