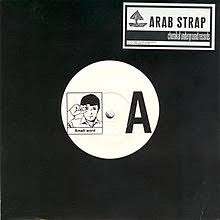 Arab Strap - The First Big Weekend - Digital Single (1996)
Original UK Release Date: 7th September 1996. 2 Tracks (256K bit rate; 15.1MB)
Recorded shortly after the Scotland v England international when Paul Gascoigne scored 'that' goal and Gary McAllister arsed up 'that' penalty. I remembered that day fairly well as it turned out, but ultimately, it was Aidan and Malcolm's weekend that I became more familiar with courtesy of this seminal, outstanding single. Asked to come up with a track to take to radio, Aidan simply recounted the events of the previous weekend over a backing track which comprised of a drum machine and Malcolm's guitars. If you're ever in any doubt as to just how amazing Arab Strap actually are, ask yourself the question: if I decided to write a song about a big weekend I'd just had would it be any good? Then listen to The First Big Weekend.
Backed by Gilded which was another raucous guitar workout lyrically exploring "shallow disco cows", supermodels' tits", "NME covers" and Aidan's total conviction that he was "gonna be a pop star". Who on earth would have argued with him?
Pointless Piece Of Trivia: Radio 1's Steve Lamacq hailed The First Big Weekend as 'The Best Single Of The Decade' and, along with Jo Whiley, proceeded to play it a record breaking number of consecutive plays on the Evening Session. We should know how many times it was but we've forgotten - so sue us...