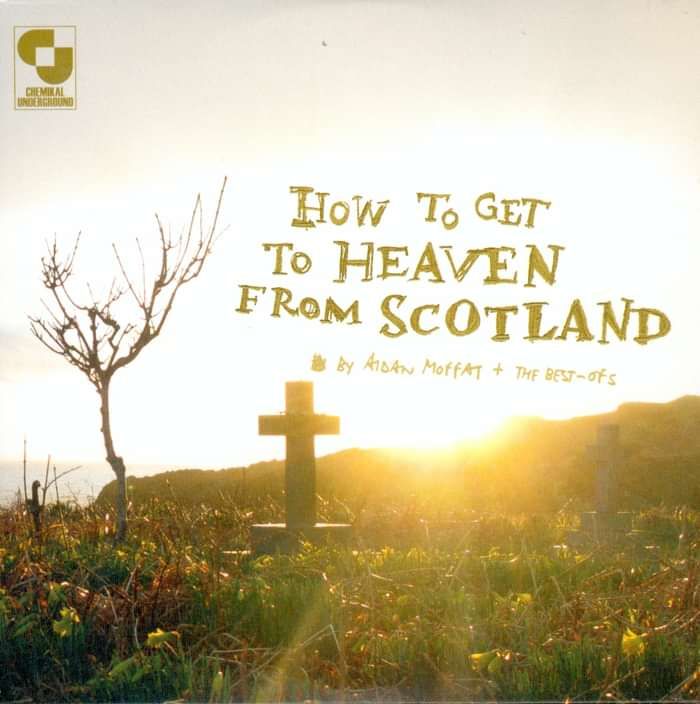 Aidan Moffat & The Best Ofs - How To Get To Heaven From Scotland - Digital Album (2009)
Original UK Release Date: 14th February, 2009. Entire Album Download With Cover Art - 12 Tracks (320K bit rate; 93.4MB)
A Scenic Route To The Isle Of Ewe
Ballad Of The Unsent Letter
With a new year comes a new incarnation and this album finds Aidan Moffat backed by a shape-shifting cohort of musicians known as 'The Best Ofs'. Who are these 'Best Ofs' then? Well, you've got a smattering of ex-Delgados in the form of Alun Woodward and Stewart Henderson (also their long-term cellist and barfly buddy Alan Barr), Mogwai's Stuart Braithwaite, Stephen Jones (Isobel Campbell & Mark Lanegan's band) and also the much in demand Mansionhouse Brass Band.
Much has been made of this album's more upbeat, romantic slant and who better to shine some more light on the project's origins than Mr Moffat himself...
"I decided it was time that I attempted to write some positive love songs, which is incredibly difficult to do if you want to avoid cliché and repetition," says Aidan. "You have to try to make them both personal and universal, which can be quite difficult; you have to try to forget other people are going to hear them while also making sure it will appeal to an audience. There's a lot more sunshine and happy endings on this record, plus a song about my grandfather's non-existent ghost and a lullaby about the terror of impending fatherhood. Hopefully I've managed to keep it at least diverting for the 37 minutes it lasts."
The album's rather magnificent title comes from a pamphlet delivered through Aidan's door by the Southside God Squad and in terms of what guise Aidan might appear in next, he's happy to (partially) enlighten us...
"I'm currently of the notion that I won't make a record with the same band or under the same name twice," says Moffat. "My next album will most likely be one that I'm writing and recording with Bill Wells. I've also started a sequel to I Can Hear Your Heart, but it won't be any kind of conventional music album so I don't think that falls under the new rules. I reserve the right to change my mind anyway."